Recently I was helping a friend find new chairs for her breakfast table and so I racked up quite a collection on our private Pinterest board. I thought I'd share my favorites here for anyone in the market for bistro chairs. Here's my criteria when I'm shopping for furniture:
1. Attraction/Beauty - Love at first sight.
2. Functional - The design has to function and be ergonomic for the user. For example, a booster seat might need to fit and stay on a chair for years or the user might have extremely long legs. Form follows function.
3. Classic - I like the lines and finishes of the form to stand the test of time.
4. Never Seen Before - ...in this setting, ...in this finish, ...in combination with this table, ...in this variation, etc.. I'm looking for something different than my neighbors, just like
Mr. Pine
.
5. Quality and Affordability - I'm looking for something made well and something that's not over priced from a reputable company.
6. Am I Excited? - Furniture lasts a long time and it's expensive so I need to be jumping up and down when the delivery truck arrives. I'm always trying to avoid buyer's remorse!
With all of this in mind I was looking for chairs to go with a table similar to this:
bravotv.com
Also, I had recently seen an episode of Million Dollar Decorators where Kathryn Ireland redid a home in Ojai. The look below of the white Windsor chair with the natural farm table inspired me:
bravotv.com
So here are my favorite bistro/breakfast dining chairs in the public market right now:
1.
Era Armchair
by Thonet, Solid Seat from
Design Within Reach
.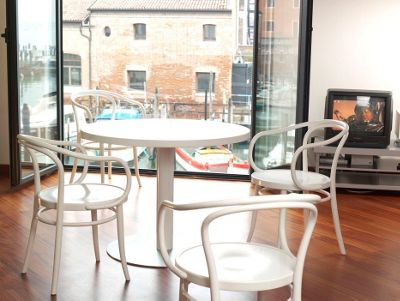 dwr
Love this chair for for it's classic lines and I've never seen it at my neighbor's house!
Mushroom Riviera Side Chair and Arm Chair
from
Serena and Lily
.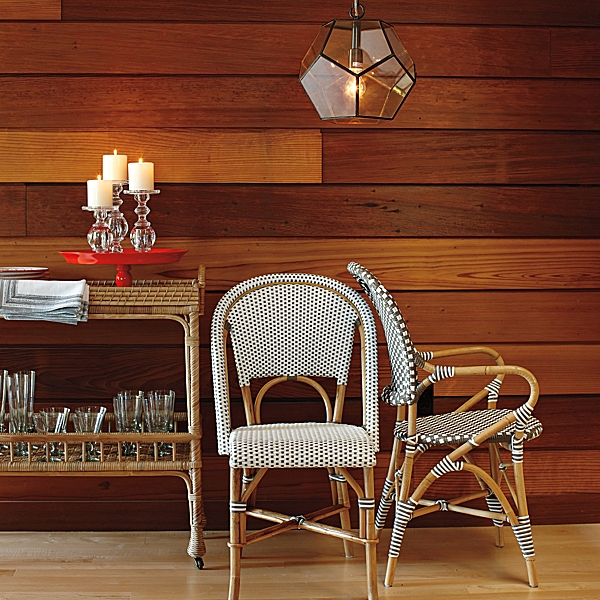 serena and lily
I think these will be my next breakfast dining chairs even if it is 10 years from now. What's not to love?
3.
White
or
Metal Tolix
Chairs from
Sundance Catalog,
Design Within Reach or Pottery Barn.
4.
21st Century Bistro Chair
from
Sundance
.
Sundance
I've never seen a chair in this shape and made out of steel, I love it!
4.
Marlow II White Side Chair
from Crate & Barrel.
Crate&Barrel
The "Windsor like" lines of this chair feels classic and the height of the chair would add to the dimension of a room. I also love how they (above) put the lamb skin on the seat for comfort.
Salt Chair
from Design Within Reach.
5. Kooboo Chair from
World Market
. To buy this chair, go to the store and get a "rain check". The store at 59 & Richmond in Houston is expecting a shipment Mid March. It's $149.99.
An iPhone photo of a page in my Cottage Living Magazine, 2007.
Okay so this doesn't exactly fall under my "never seen before" criteria, but when something looks great, exceptions can always be made.
6. Director's Chairs from
Linens-n-things
,
Target
,
Hayneedle
... they can be found everywhere.
I've been trying to convince my sister to do this in her house for a while and I think she's almost on board! I thought if I pointed out these Lacoste director's chairs while watching the French Open 2012 that she'd be convinced, see them on the side line:
I love Federer.
7.
Vienna White Side Chair
from Crate and Barrel.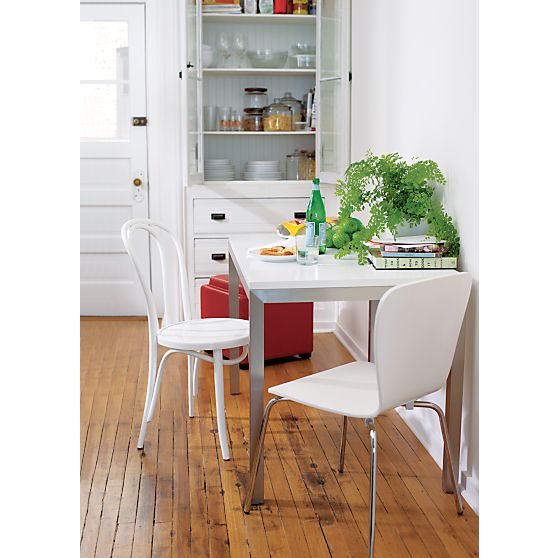 Crate & Barrel
I have this chair in black and I love it, a very affordable chair.
8. This last chair is something fun I stumbled on just today.
No. B9 Le Corbusier
in a custom finish by Thonet. I can see these in a cool restaurant or casual conference room.
That's it for my favorite bistro/ breakfast dining chairs. For anyone needing inspiration or anyone in the market for something new, I hope you found it here today!